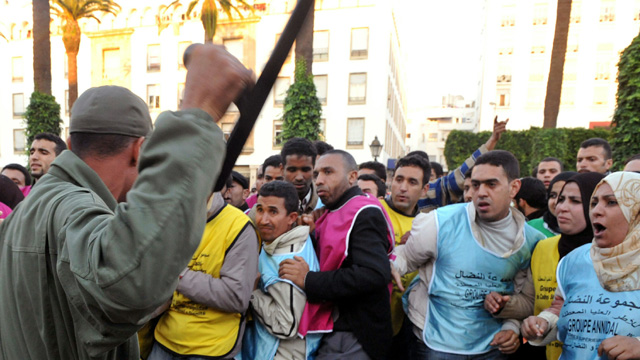 There's this kind of "acceptance" of Inflation by the western Sheeple, like it's somehow a necessary part of the economy, and although "not ideal"
- "What's 2 or 3% a year when we can buy still whatever we want on credit anyway?"
US citizens need to understand the privileged position they (still) occupy at this brief  juncture in time, because it is not really "real",  and once the moment (historically speaking) passes , life is going to become very different for the majority of Americans moving forwards.  The quantum money printing  "The Bernank" is engaging in, combined with various natural disasters around the world are putting demand-based upwards pressure  on basic foods, and threaten to wind into a global revolutionary storm that will ultimately come home to roost in the US with a terminal ferocity reserved entirely for it's ultimate creators.
The US Government and their pet central bank's plan to print money to support the economy and drive the stock markets higher to create the illusion of returning prosperity, and hopefully at least hold home prices where they are, is actually nothing less than genocidal to poorer countries, and this US manufactured and exported inflation  has started to show itself  as dramatic food price rises in the poorer areas of the world, but ultimately will spread to Europe, and  then the big finale, the USA.
Thousands in Jordan protest, demand PM step down

By ASSOCIATED PRESS
01/28/2011 15:02

In 3rd day of protests, opposition supporters take to streets in Amman to express anger at rising prices, inflation, unemployment.

AMMAN, Jordan — Thousands of Jordanian opposition supporters took to the streets Friday in the country's capital demanding the prime minister step down and venting their anger at rising prices, inflation and unemployment.

It was the third consecutive Friday of protests following Muslim prayers in Jordan, inspired by the unrest in Tunisia and rallies in Egypt demanding the downfall of the country's longtime president.

RELATED:
Arab world unrest has Jordan's king under pressure
Human rights in retreat again in Middle East in 2010
Protesters demand Jordan's government step down

About 3,500 opposition activists from Jordan's main Islamist opposition group, trade unions and leftist organizations gathered in Amman's downtown, waving colorful banners reading: "Send the corrupt guys to court."

The crowd denounced Jordanian Prime Minister Samir Rifai's unpopular policies. Many shouted: "Rifai go away, prices are on fire and so are the Jordanians."

Another 2,500 people also took to the streets in six other cities across the country after the noon prayers. Those protests also called for Rifai's ouster.

King Abdullah II has promised some reforms, particularly on a controversial election law. But many believe it's unlikely he will bow to demands for popular election of the prime minister and Cabinet officials, traditionally appointed by the king.

Rifai also announced a $550 million package of new subsidies in the last two weeks for fuel and staple products like rice, sugar, livestock and liquefied gas used for heating and cooking.

It also includes a raise for civil servants and security personnel.

Still, Jordan's economy struggles, weighed down by a record deficit of $2 billion this year. Inflation has also risen by 1.5 percent to 6.1 percent just last month, unemployment and poverty are rampant — estimated at 12 and 25 percent respectively.
Of course, Zerohedge have been on the theme for weeks now, but you need actual riots, regime changes and governments to fall before the mainstream media might mention rising food prices, even then many attempt to paint the uprisings as the work of radicals.  In a way they are correct, because EVERYBODY will get pretty radical once they and their family cannot afford to buy food to live.
Over to Tyler
Submitted by Tyler Durden on 01/14/2011 10:16 -0500

The Fed chairman is 100% confident inflation can be contained. Rapidly spreading rioting (5 countries so far) would take the under on that.

Latest on Tunisia:

Twelve people were killed in overnight clashes in the Tunisian capital Tunis and the northeastern town of Ras Jebel, according to accounts from two medical sources and a witness on Friday.

Ten of the victims were killed after clashes in the capital, two sources from Charles Nicolle hospital told Reuters.

A witness from Ras Jebel, who identified herself as Narjes, said: "I saw two dead people with my own eyes after police fired at youth".

Tunisian officials could not immediately be reached for a comment. It was not immediately clear whether the shootings took place before or after the country's president ordered police to stop using lethal force against demonstrators.

And now the violence has spread to Jordan:

Food price protests sweeping across North Africa and the Middle East reached Jordan on Friday, when hundreds of protesters chanted slogans against Prime Minister Samir al-Rifai in the southern city of Karak.

The peaceful protest was held despite hastily announced government measures to curb commodity and fuel prices. Similar demonstrations were held in three other towns and cities across the country, witnesses said.

"We are protesting the policies of the government — high prices and repeated taxation that made the Jordanian people revolt," Tawfiq al-Batoush, a former head of Karak municipality, told Reuters at the protest outside Karak's Al Omari mosque.

Three days ago, after riots in Algeria and Tunisia over high prices, unemployment and falling living standards, Jordan announced a $225 million package of cuts in the prices of some types of fuel and of staple products including sugar and rice.

Other Arab countries have taken similar steps. Libya abolished taxes and customs duties on food products and Morocco offered compensation to importers of soft milling wheat to keep supplies stable after a surge in grain prices.

…Morocco (google translated)

Protests against price rises and unemployment moved from Tunisia to Morocco, where the streets of Rabat, yesterday, saw clashes between young protesters and police forces, which tried to prevent them from organizing a demonstration outside the Moroccan parliament, in protest against unemployment and high prices and the cost of living in Morocco

And Yemen:

In Yemen, Yemeni President Ali Abdullah Saleh fired Minister of Oil and Chief Executive, the Yemen Petroleum Company Omar Arhabi, yesterday, due to a lack in the supply of petroleum products, not available in the market, which led to bottlenecks in front of gas stations and the creation of indignation among the citizens.

Not like there is much to add here, but we would like to add that if a rising stock market was indicative of "wealth" then the citizens of Zimbabwe have to be the richest people in the universe.